About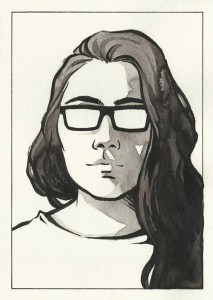 I'm a Toronto-based comic artist, illustrator, and printmaker. I graduated top of my class from Seneca's business oriented Independent Illustration program. I also have a degree in English Literature, Writing, and Philosophy from the University of Toronto and studied Historical Costuming from Dalhousie University – all of which have had an immense impact on my work and conceptual process. I plan on doing an interdisciplinary masters at York in the next few years in their Environmental Studies department. My thesis will look at how mass media impacts cultural understandings of concepts, and how mass media is necessary to change cultural understanding of major environmental issues.
I'm currently breaking into Toronto's film industry as a 2nd Assistant Art Director in the DGC's Art Department with the aim to end up in illustration and concept, particularly costume illustration. I have worked with the Art Gallery of Ontario, the International Print Center New York, the Houston Ballet, Open Studio, and Seneca College. I write and draw comics, short stories, and self publish zines. Thus far they include a wide range of genres from horror to children's stories, autobiographical to fantasy. I aim to put out at least one self-published work a year.
My work typically combines multiple mediums, or at very least the abstract details or process of one medium into another. I work both digitally and traditionally, switching back and forth between Photoshop, Illustrator, InDesign, screenprinting, ink, watercolour, cut paper, and other mediums. Almost all my completed works have some elements that are digital and traditional. Having spent a large amount of time working with cut paper and watercolour, texture is an essential component of my work and scans from patterned paper, photographs, and custom textures made in Photoshop or Illustrator are key to my final digital pieces. Conversely,  almost all my printmaking starts as a digital image where I can create detailed layers for each colour and basically create a digital mock-up for the final printed piece without having to worry about fine details when the ink is in the screen and rapidly drying. The process I use to create files for my prints has, in turn, impacted my digital process, how I assemble my layers, and how I chose colour. It's an eternal learning process of picking up and combining new mediums to create more rich and dynamic work.
You can find me at Toronto art fairs and conventions selling my wares or obsessively hoarding the wares and business cards of other artists. Alternatively, you can find prints of my work, zines, and other products on my StoreEnvy.
You can reach me at jess.sheridan.illustration@gmail.com if you have an concerns or comments. Please also check out my tumblr or instagram for updates on my ongoing projects and process work.